Sideways.sg is the world's first vintage vespa sidecar tour service.
Experience Singapore's sights, sounds and flavours up close and personal as our unique fleet of hand restored vintage vespa sidecars takes you off the beaten track.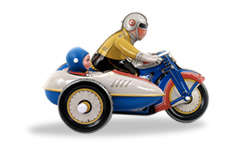 Breeze across unexplored open rooftops, down along quaint alleyways and face to face encounters with real locals – not the touristy stuff you see from a distance, but the real Singapore close up.
Request a custom Night Ride with Makan (eats) and Drinks, a half day heritage tour or simply book one of the 30 minute spins, to get an overview of an historic neighborhood before homing in on the activities you want to do.
A collaboration supported by Singapore Tourism Board and co-created with award winning tour agency and hostel Betel Box, Sideways.sg brings you Singapore from a most unique perspective.
Meet Pencils and Carter
Pencils is a Kucinta (or Singapura) cat, native to these tropical shores and knows his way very much off the well trodden path (and drains) of this island city, in both night and day.
The origins of his counterpart Carter is a little less known. As far as Carter recalls, his earliest memory is of peering up at the smiling passenger in the sidecar in which he was discovered back in 2013. His well trained nose and senses make him a perfect guide and companion for Pencils, as the pair ride around Singapore sniffing out exciting new experiences for their much beloved visitors.
Tours are only as good as the guides leading them.
For our half day and custom tours, Sideways guides are trained by Betel Box, Winner of Singapore Tourism Board's Best Travel Experience 2009.
Certified by the Singapore Tourism Board, Sideways guides are a team of fun- loving, experienced, curious and dedicated people who are passionate about
Singapore.
In addition, they have also undergone a rigorous in-house training program to ensure that they are amongst the best in the business and can lead you to
uncover practically everything about Singapore!
Join Us and Ride Sidecars!
Our team is made up of people from different backgrounds, cultures, genders, education, training, interests and skills. If you share our enthusiasm,
passion and want to change the tourism landscape, join us!
We are Hiring: Tourist Guides with Motorbike licenses!
Candidates must be passionate about Singapore and be interested in people. Write to us for a full job description.
More details coming soon!